Language Arts – Grade 6 (Age 11/12) Curriculum Choices
Have you been planning out your language arts for next year?  I thought I would share my plans with ED (who will be in Grade 6 next year). She's 11.
Below you'll find out how we tackle the various parts of language arts:
literature skills (plot, setting, character, point of view, and so forth),
grammar,
vocabulary,
spelling,
literature (reading lots of good novels), and
writing (which I've written about in other posts)
Then once we get various literature books, workbooks and new novels we generally jump right in (before taking our summer break).
Literature Skills:
For the literature skills we've been using those big, thick school literature textbooks.  I chose the McDougal Littell Literature: Student Edition Grade 7 for ED this year.
Why that one?  In glancing through that text, some of the literature pieces had selections from books she has already read (such as Island of the Blue Dolphins). It seemed like a good fit.
But having about eight different literature texts (because ED's older sister read through lit book after lit book!!), I can tell you they are all pretty similar in style.
How do we use the literature text?  I have been sitting and reading with ED. We read and discuss things together. I like that we can talk about broad themes – What is courage? Is life always fair? – or analyze the pieces in more depth – What can you tell about the setting? The rising action leads towards the climax. What decision might this situation be building towards?
Do we use the Teacher's Edition? We are using a student text and I don't feel like I need the teacher's edition.
Note: Her older two siblings are now using Literature: The American Experience for American Lit. (high school level) and I'm glad to have the teacher's edition for that.
Grammar:
ED is using Write Source SkillsBook (Grade 7) for editing and proofreading practice. We've been using these grammar books for years and I really like them. They are a consumable workbook. In the younger years, they explained the rules quite well and then students practiced that skill.  In this grade 7 version, there are 1-2 page passages and ED has to correct the mistakes.
Vocabulary:
We've also added in some vocabulary practice on the recommendation of a friend. It's called Wordly Wise 3000. We chose the Grade 5 version since I wasn't quite sure what to expect. I'll have to come back to let you know how well it integrates into our language arts time/homeschool day. 🙂
Spelling:
ED still hasn't finished the All About Spelling books. She wants to keep working through those.  She said, "As long as you keep making various games for me."  (She worked through all the tricky spellings of IE/EI (with words such as – friend, believe, cashier, siege, relieve, efficient, receive, deceit, ceiling, receipt, foreign, etc.) earlier this spring and we played many rounds of those spelling games. (See this post for IE/EI spelling activities!) This spelling post tells you why we love this program so much!
I really love this program and all three of my kids have used it. The rules are laid out nicely and it doesn't take much work on my part to go through the rules and practice sentences. When they were younger, I just loved the practice tiles.  Again, you can find out more about the All About Spelling Program here.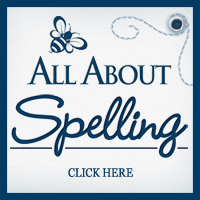 Literature Books/Novels Reading List:
As I mentioned above, the kids also spend time reading books and novels. The kids always have a novel they are reading on their own; they often start out the day eating breakfast and reading a book.
I have a huge shelf and they can choose what they want to read.  I thought I would share some of the books that are on the shelf for ED (age 11… going into 6th grade next year).
Note: The links below are affiliate links.
Books ED has recently finished:
Island of the Blue Dolphins by Scott O'Dell
Hatchet by Gary Paulsen
The One and Only Ivan by Katherine Applegate and Patricia Castelao
Number the Stars by Lois Lowry
Shiloh by Phyllis Reynolds Naylor
Inside Out and Back Again by Thanhha Lai
Books we have on the shelf. I recently added some recent Newbery Award winners to our bookshelves!
The Birchbark House by Erdrich, Louise (My older daughter/age13 just finished this and loved it! ED hasn't read it yet, but DD has told her she should!)
The Inquisitor's Tale: Or, The Three Magical Children and Their Holy Dog by Adam Gidwitz and Hatem Aly
The Girl Who Drank the Moon (Winner of the 2017 Newbery Medal) by Kelly Barnhill
The Book of Boy by Catherine Gilbert Murdock
The Night Diary by Veera Hiranandani
The War That Saved My Life by Kimberly Brubaker Bradley
The Van Gogh Deception by Deron R. Hicks
The Fighting Ground by Avi
Where the Red Fern Grows by Wilson Rawls
Wringer by Jerry Spinelli
Esperanza Rising by Pam Munoz Ryan
Roll of Thunder, Hear My Cry by Mildred D. Taylor
Books that we've already read, but that we would recommend for Grade 5 or 6. ?
Poppy by Avi
The Endless Steppe by Esther Hautzig
A Wrinkle in Time by Madeleine L'Engle
The Giver by Lois Lowry
Johnny Tremain by Esther Forbes
Chronicles of Narnia by C. S. Lewis
Crispin by Avi
Ella Enchanted by Gail Carson Levine
Wonder by R. J. Palacio
Ender's Game by Orson Scott Card
Lightning Thief by Rick Riordan
Grade 4-6 Reading List:
Here is a similar post I wrote a while back about the books we worked through for grades 4-6.
Grade 7-9 Reading List:
Here is a similar list I made a couple of years ago for grades 7 to 9: Reading List Grade 7-9. These are well-known classics. We're pretty flexible in that I won't make them finish a book they "hate." Life's too short and their are too many amazing books!
Let me add that our list changes as the kids' interest change and as we cover different things in our homeschool. If I were to recommend just one book from the Grade 7-9 literature reading list, I would probably suggest Flowers for Algernon.
Excellence in Reading Lists:
I have really liked the selections on the Mensa Excellence in Reading Lists. Here is the one I've been referring to for ED (coming up into Grade 6):
Here are some of their other reading lists.
See you again soon here or over at our Homeschool Den Facebook Page! Don't forget to Subscribe to our Homeschool Den Newsletter. You might also want to check out some of our resources pages above (such as our Science, Language Arts, or History Units Resource Pages) which have links to dozens of posts.  You might want to join our free Homeschool Den Chat Facebook group.  Don't forget to check out Our Store as well.
~Liesl
Again, if you are interested in joining our Homeschool Den Newsletter, feel free to subscribe here. It's a great way to hear about our latest packets and to learn about many of the hundreds of printables & other materials we have tucked away on the blog!
Happy Homeschooling! ~Liesl
Disclosure: The links above are affiliate links and at no additional cost to you, I will earn a commission if you decide to make a purchase. And if you do follow the links, thank you SO much for supporting our blog! ~Liesl
You might be interested in this free writing resource:
Some of our Free Grammar Pages:
These were some of the things we've been going over the past week or so (Remember, these printable are all free!):
We need to go over the rules for using quotation marks and italics/underlining (with titles of books, short stories, TV programs, names of ships, poetry, etc… Even I have trouble remember when to underline & when to use quotation marks!)
We definitely need to go over semicolons again.
And, we'll also spend time on some of the tricky homophones. Here are some of the pages I made in the past:
Hope you find something useful! ~Liesl