Our Homeschool Language Arts, Spelling, and Grammar Curriculum
So, what does our family do for our homeschool language arts curriculum?  I'll share what we've been using for 1st through 6th grades.
Over the past week, I've gotten three separate emails and FB messages asking about what we use for language arts — spelling, grammar and literature. It must be that time of year again when we start thinking about our plans for next year. 😉
I'll start with Spelling.
Spelling:
If you have been a long-time reader, you know that when my son was little he was a reluctant writer.  He read from a very young age (3), but writing was definitely not his strong suit.  He wanted everything to look and *be* perfect, so he struggled (often with tears) in those early years.  Then… can you hear the bells ringing and the clouds parting??!!… we found All About Spelling.  That made a HUGE difference to his comfort with writing.  I think we started with that at the end of first grade for him, but started him back at the beginning (Level 1) to build up his confidence.  At first he tolerated it (but still complained about having to write phrases), but quickly grew comfortable with the program.  It took more time for writing to take off (and that's the subject of another LONG 20-post series called Creating a Homeschool Writing Workshop!)
What's so great about All About Spelling? (affiliate link) Well, it's multi-sensory… and logical. It lays out spelling rules and the program builds upon itself.  Here's a picture of my daughter (ED) using our spelling tiles a year or so ago (while my older two were working on -tion -cion and -sion).
Anyway, I love this program so much, I became an affiliate last night (after more than 5 years, just raving about their program!). The links in this post about All About Spelling are affiliate links. Initially, we bought the tile set (they call it the Spelling Interative Kit) and you also have to buy whichever level book is appropriate.  Over the years, we continued on from level to level so we have books 1 through 6.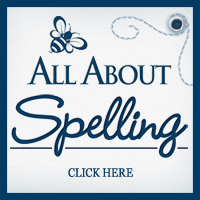 Some people have a white board they mounted to the wall.  We have always used a small magnetic board. For a long time, we used a cheap plastic one we had from when the kids were toddlers, but a year or so ago I bought a nicer looking Doublesided Tabletop Easel (affiliate link) by Learning Resources.  I think it looks pretty nice.  We have another smaller magnet board underneath that holds the magnetic spelling tiles we're not currently using.
One last thing about spelling before I change subjects: Last fall we also started using Spelling City (this is not an affiliate link) and some spelling words lists as well for the first time. My kids really loved that website and we decided to upgrade and go for the paid option because the kids wanted more game options. We will probably renew our subscription next year as well.
Grammar and Editing Curriculum
As many of you know, we've made a lot of grammar worksheets that are free here on the website, but we also have used the Write Source Skills Books for years.  They provide some basic grammar rules and are straight forward.  I have found that I need to supplement these (with our own sheets) as I spot problems in their writing, but I'm quite happy with these, especially at the price (below $10).  Amazon carries them and here a link to one of the books,  Write Source: Skillbook Grade 5, (affiliate link) but if you can't find them here you might also check out Rainbow Resource (not an affiliate link, but a great company that carries hundreds (thousands?!) of homeschool curriculum options.
The other book that we've been using the past year or so are the Editor in Chief®  books by the Critical Thinking Company. (affiliate link to Amazon).  I really like these books because they have a short paragraph and tell the kids exactly what kind and how many errors to look for.  And, these books, unlike the SkillsBook above provide the answers in the back so the kids can check their own work.
We have made tons of grammar sheets (they tend to get a LOT of hits!!)… on everything from Comma Rules, Their/there/they're, apostrophe use, and more . You can browse through out Language Arts category to find tons of those free grammar worksheets!! 🙂
Literature:
As far as "literature" goes, we don't use any set homeschool curriculum. The kids do a LOT of independent reading. After they move from phonics readers, they moved into Magic Tree House books, Horrible Harry and things like that. And, I bring/brought in a lot of Caldecott Award books which often have more challenging vocabulary than the formulaic books like the Magic Tree House or Fairy series.
Once they were ready, I have them read Newbery award winning books. Some of these they read on their own; some of them we read together as a family; some of them we listen to as books on tape. I have a number of books that I definitely want them to have read by the time they reach middle school (like My Father's Dragon, Because of Winn Dixie, Island of the Blue Dolphins, Ella Enchanted, Wringer, Hatchet, The Sign of the Beaver, One-Eyed Cat… I know I've left dozens off this list! You should check out our bookshelves, though. We have one shelf 5ftx3ft that just has Newbery Award winning books and novels. And, I know I'm not the only homeschooler like that!!! lol!) There's a huge list at the America Library Association, which makes a good starting point.
Also, these posts have lists of some of the books we read aloud or the kids read on their own:
And, the other way I tie in literature is by making sure to bring in a lot of books with our history units. So, when we studied China or India — we probably read 40 books (and one or two novels) to go along with our studies of history. I find those books/selections by scouring the Sonlight catalog, and using book suggestions from Story of the World and History Odyssey. I looked at adding in some literature/short story selections from public school literature textbooks, but frankly they weren't engaging enough to use long-term and at this point all that is truly important (in my opinion) is getting the kid to love reading passionately. I've shared our book lists on the blog for each unit we've done — Africa, India, China, Ancient Greece, etc. etc.
I've try to touch on all the different genres — poetry, non-fiction, fiction, sci-fi, historical fiction. As we move into the older grades, we're going to be tackling more of the classic authors.  I've been toying with reading some (or selections from) Charles Dickens books for example.  I need to do some reading first, to see if all three of my kids are ready for that or if I need to find some things appropriate just for my older kids.
Well, I'm about out of time and have certain gone on long enough, right?!! I'll bring this to a close for now.  If you have any thoughts about what works well for you or questions that I might answer here on the blog, just drop me a note here or at our Homeschool Den Facebook Page!  See you again soon! ~Liesl
Vocabulary:
I am considering adding in a vocabulary workbook for the kids next year.  We will use it irregularly… ie. we'll probably use it for a week or so and then put it aside to focus on grammar or spelling. We just don't seem to have enough hours in the day to hit on all elements of language arts on the same day, especially since our Writing Workshop takes 45 minutes to an hour most days. The series is a resource by Sadlier called Vocabulary Workshop.  Their website allows you to look really closely at each level, though I think we'll buy from Amazon because (at this point) it is cheaper. I think DD will use  Vocabulary Workshop Level A (Grade 6). (affiliate link) You'll find a preview of this Vocabulary Level A Grade 6 book here. The have books for grades K through 12.
You might be interested in these related posts:
Handwriting Practice:
If you have younger kids who are just learning to write, here are some of the resources we used when they were younger:
Drawing and Copy Work: Just want to add that at this age, we also *really* loved the Draw, Write Now books.  They come in all different kinds of themes and I think in the end we wound up getting four or five of them. 🙂 A few titles include from the Draw Write Now series: On the Farm, Christopher Columbus, Autumn Harvest, Native Americans, North America, Pilgrims, Animal Habitats (on land, ponds and rivers, ocean)  (affiliate links) These books have instructions for drawing various pictures and include copy work as well. We've gotten a lot of use from these (my 3rd grader still uses these from time to time).
For handwriting we used Handwriting Without Tears. That worked really well for us.  My First School Book (affiliate link) is for PreK. My Printing Book (affiliate link) is the next in the series for kindergarten or grade 1. This series really helps explain how to form the letters – magic c… up like a helicopter… etc.!  This post has links to some videos that show how to form some of the letters properly: Preschool at Home: Handwriting
The kids also did some copywork from various resources I picked up. I have made a set of free copywork pages to share with you (coming May 10th, 2017):
Disclosure: Please note that some of the links above are affiliate links, and at no additional cost to you, I will earn a commission if you decide to make a purchase.
P.S.  All About Learning Press (who makes both All About Spelling that I talked about above and also All About Reading) has some cute language arts resources. For example, this free compound word activity (affiliate link) was made by All About Learning Press Cute, right?! Thank you, Marie!
Free Printable over at All About Learning