This is a set of word sort activities to reinforce the "ow" and "ou" vowel team; the "oy" and "oi" patterns;  and the "au" and "aw" vowel patterns.  ED is finishing up volume 2 of All About Spelling (affiliate link), the spelling program I've used with all 3 kids, and she wanted some fun games again to go over these various vowel teams.

Since we are diving into a new unit on oceans soon, I decided to go with an ocean theme for her spelling words this time around! She was pretty happy with this set! 🙂
As she was first working on these spelling words, she took the cards and sorted them onto their appropriate vowel team mat.  But, as she became more familiar with the words I would read them aloud, she would tell me the vowel team, and then I would give her the card to place on the mat.
This next week we will be working with the game boards.  There are four separate games.  You can divide the cards so the kids just play the ow – ou vowel teams, oy – oi vowel teams, or the aw – au vowel teams. Or, there is a board which combines all four patterns.
To Play: 
For younger kids let them look at the card, read it, and go to the first space available with the spelling that matches their card.
For more advanced kids, read the word for them and have them identify which space they should go to. For example, read the word "because" aloud and have them tell you that they need to go to the "au" space.
The first player to land on the last space in the center of the spiral wins the game.
By the way: You will find TWO sets of game boards in this file. Check both sets out and decide which you'd rather print out.  In the second set, I decided to add in some "move ahead" or "move back" spaces to the game boards just to add some spice and excitement to the games. You'll find them following the first set. Play as normal, but if a player lands on the space they follow the directions written.
There are 9 pages of word cards, 4 game boards, and the vowel-team sorting mat.
This 13-page spelling packet is $2.50.
ow ou oy oi aw au Word Sort Activities
After you enter your details in Paypal, you will receive a link immediately to download the pdf in your browser. Sendowl (the service I use) will also send you the link in an email.  As always, if you have any questions or problems (or need me to reset the number of downloads back to 3) feel free to send me an email liesl at homeschoolden dot com ~Liesl
$2.50

Disclosure: Please note that some of the links in this post are affiliate links, and at no additional cost to you, I will earn a commission if you decide to make a purchase.
You might be interested in these other spelling activities
This also includes bingo cards which my daughter really loves playing! I added these in recently to help her review the different spellings. 🙂
Long I Word Sort – Words with y, i_e or ie
This file actually includes two sets. One that I made for my daughter a few years ago with y, silent e, and ie spellings. And one I made more recently that includes other long i spellings (i, i-e, ie, igh, ind, y)
Long E Word Sort and Activities (e, ee, ea, e-e, ie, ei, y, ey)
You might be interested in these language arts posts:
Find out more about All About Spelling here (This is an affiliate link button). We love this program!!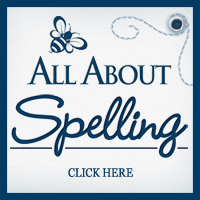 See you again soon here or over at our Homeschool Den Facebook Page!
Don't miss out on future printables and packets; subscribe to our Homeschool Den Newsletter.
Don't forget to confirm in your inbox!
---
You might also be interested in some of our other packets:
Earth Science Packet – 50+ Pages on the layers of the Earth, latitude-longitude, plate tectonics, volcanoes, earthquakes, and more!