This is just a quick post about our language arts so far this fall.  The first few weeks of school were off to a good start!
Our writing workshop is going well, and the kids really like the literature books we've add in (for the first part of writing workshop). The kids are really happy with these books. We set the timer for 20 minutes, but usually they take a bit longer to finish the reading selection they are on.  These literature books touch on various important literary elements (plot, theme, character, etc.) We'll definitely keep this going.  ED is using Write Source: Student Book Grade 3  (affiliate link) DD is using: McDougal Littell Literature Yellow Level (affiliate link)  LD is using: McDougal Littell Literature (green – Gr. 8) (affiliate link)
Spelling:
We started back to school with spelling because that was the easiest to slide back into. Our family has used All About Spelling for years now,   ED is using All About Spelling (affiliate link) vol. 2. We supplement it with other things like our Long A Spelling Sort and Long I Spelling Sort.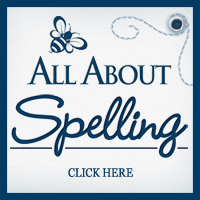 (Find out more about the All About Spelling Program (affiliate link)
My older kids started back with Spelling City. (Not an affiliate, we just like this site.)  We have the paid version because we use this program so much. I typed in spelling lists for both of them to work on.
Vocabulary:
So the past few weeks, the kids were working on spelling. This week, we switched and will be covering vocabulary for a couple of weeks.  We started using a new set of books and the kids really seem to like them.
I also typed their vocabulary words into Spelling City so they can work on these online. They can play games, do a vocabulary test, etc.  It's a good option for those down-moments when they're waiting for others. This is part of LD's list:
We'll probably stay on vocabulary for two weeks before switching to Grammar again.  We still use the Write Source Skills and Editor in Chief books (more about that in this language arts post), but I'll also be making some new grammar worksheets for them.
We have a TON of free grammar worksheets on everything from the Comma Rules to Apostrophes, Quotations and more:
Other free grammar worksheets you can download:
Writing Workshop:
That's about it for today! See you again soon here or over at our Homeschool Den Facebook Page. Don't forget to Subscribe to our Homeschool Den Newsletter! ~Liesl