Short Story Lit. Unit (Free Printable)
Often, we have a novel that we read aloud. Over the next few weeks, we are going to be doing a Short Story Unit instead. We'll be reading 2-3 stories a day (depending on their length and the time we have available).
I've included pictures (and tables of contents) for the two resources we're  using, but of course these pages are open-ended so you can use whatever you have on hand. The World's Greatest Short Stories (affiliate link) is available for just a couple of dollars on Kindle; it features short stories by great 19- and 20th-century writers from America, the United Kingdom, Ireland, and Western Europe. The other book, 50 Great Short Stories (affiliate link), is one we happen to have on hand and includes authors such as Hawthorne, Maupassant, Poe, Henry James, Conrad, Aldous Huxley, James Joyce, Hemingway, Katherine Anne Porter, Faulkner, E.B. White, Saroyan, and O'Connor.
This is a quick Short Story Unit printable I made for the kids to keep track of what we've read. They'll fill in the title of the story, author's name, setting, style, plot and a couple of thoughts. I'm hoping we get through a variety of authors in a condensed amount of time.
I printed out these pages single-sided and bound them on the left-hand side (but you can staple them instead). Just thought I'd share this with you if it's helpful. ~Liesl
Click the link or the picture to download the free pdf: Short Stories Unit – Free Printable
Some novels we have read aloud in our homeschool (with the kids in middle school and high school) in the past few years. Many of the novels we've read go along with what we are studying for history.
The Jungle
All Quiet on the Western Front
The Great Gatsby
The Grapes of Wrath
Red Scarf Girl
The Good Earth
The Scarlett Letter
Bomb: The Race to Build–and Steal–the World's Most Dangerous Weapon
A Night Divided (set in Berlin at the time the Berlin Wall was built)
To Kill a Mockingbird
Kite Runner (graphic scenes)
I am Malala
Shooting Kabul (…as in photographing.  My girls loved this!)
A couple of books my teens read (for school) and recommend:
Flowers for Algernon
1984
Lord of the Flies
Animal Farm (my daughter said I LOVED LOVED this!)
They've read others, but these are the ones they recommend to other teens! 🙂
(The kids have read other books on their own.)
Here are a couple of related posts that might be of interest:
Spelling:
We often did spelling in the fall semester and grammar in the spring semester. Our family used All About Spelling for years and we LOVED it! This is a picture of ED is using All About Spelling (affiliate link) vol. 2 when she was in 2nd grade. We supplement it with other things like our Long A Spelling Sort and Long I Spelling Sort & Games.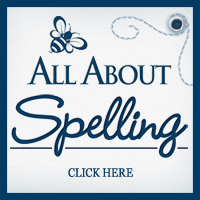 (Find out more about the All About Spelling Program (affiliate link)
Find out more about our spelling games and activities here:
See you again soon here or over at our Homeschool Den Facebook Page! Don't forget to Subscribe to our Homeschool Den Newsletter. You might also want to check out some of our resources pages above (such as our Science, Language Arts, or History Units Resource Pages) which have links to dozens of posts.  You might want to join our free Homeschool Den Chat Facebook group.  Don't forget to check out Our Store as well.
~Liesl
Again, if you are interested in joining our Homeschool Den Newsletter, feel free to subscribe here. It's a great way to hear about our latest packets and to learn about many of the hundreds of printables & other materials we have tucked away on the blog!
Happy Homeschooling! ~Liesl
Disclosure: Please note that some of the links in this post are affiliate links, and at no additional cost to you, I will earn a commission if you decide to make a purchase.