I made this spelling review sheet for the /er/ sound. We use All About Spelling Program (affiliate link) (which we love, love, love!) and this goes along with several of the lessons from books 2 and 3. Spelling has never come naturally to LD in particular, so he needs a bit more review from time to time.
Feel free to download this for your child/students!
Spelling: sound /er/ — er ir ur
My youngest, ED,  is now working on the /er/ Sound. I made an activity for her that you might be interested in. It is free until March 23 (10pm EST). After that it will be $2.50:
/er/ Sound Word Sort and Games
After you put in your email address and click download, a box will appear and you will be able to download the file.  You will also receive an email from SendOwl (the service I use) that says "Homeschool Den Purchase" (though of course it is currently free).  That email will also have the link for you to download this file. ~Liesl
DD has been working on the long-O sound in All About Spelling. (affiliate link).
She did this Long-O spelling sort that I made some time back for LD (thus the space theme!).
If you are interested, you can download the Long-O-spelling word sort here
What we like about  All About Spelling (affiliate link) is how hands-on it is.  The kids are introduced to a new concept or spelling rule and usually practice the concept first by using the tiles.  We use a small magnetic white board, but I've seen other families who have a giant white board which hangs on their wall.  Then they go on to practice words and sentences. We usually spend two days on each lesson — practicing about half the words (10-12 words) and half the sentences (6 sentences). We end each lesson with a quick writing workshop where I dictate 5 words and they use them in their own sentences or to write a story.
Spelling comes very naturally to my daughter and she has moved forward with ease. In fact, if we had more time I'm sure she'd be much farther ahead!  LD, on the other, is not a natural speller and because of that this program has been absolutely crucial.  I am so thankful we found this program. It's logical, straight-forward approach has been wonderful for him. I just love how multi-sensory it is!
It lays out spelling rules and the program builds upon itself.  Here's another picture of the kids using our spelling tiles:
Anyway, I love this program so much, I became an affiliate recently (after more than 5 years, just raving about their program!). The links in this post about All About Spelling are affiliate links. Initially, we bought the tile set (they call it the Spelling Interative Kit) and you also have to buy whichever level book is appropriate.  Over the years, we continued on from level to level so we have books 1 through 6.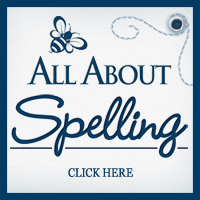 Some people have a white board they mounted to the wall.  We have always used a small magnetic board. For a long time, we used a cheap plastic one we had from when the kids were toddlers, but a year or so ago I bought a nicer looking Doublesided Tabletop Easel (affiliate link) by Learning Resources.  I think it looks pretty nice.  We have another smaller magnet board underneath that holds the magnetic spelling tiles we're not currently using.
P.S. Last week I also shared some spelling rules review sheets if you are interested. They're free to download. ~Liesl
---
Disclosure:  Please note that some of the links above are affiliate links, and at no additional cost to you, I will earn a commission if you decide to make a purchase.
You might also be interested in these related posts:
See you again soon here or over at my Homeschool Den Facebook Page.  Don't forget to Subscribe to our Homeschool Den Newsletter! ~Liesl