Free Sudoku Puzzles for Kids
I've been trying to get some planning and printing done this afternoon for our homeschool next week.  We're going to add some critical thinking activities back into our schedule and I often pull out Sudoku puzzles for the kids to work on while I'm gathering materials (that down time while I'm trying to get my act together!). The kids LOVE these puzzles.
Krazy Dad has hundreds and hundreds of Sudoku puzzles for kids in 4×4 squares, 6×6 squares and 8×8 squares and other sudoku puzzles (that are even harder!).  For the 4×4 puzzles, you have to fill in the block so that each row, each column and each 2-by-2 block contain all of the digits 1 thru 4. He has easier versions (where more numbers are filled in) and harder versions (where he doesn't offer as many numbers to start with).
Pictured below are the 4×4 and 6×6 squares:
He also has lots of mazes for kids in shapes like these and in the shapes of animals, dinosaurs and more: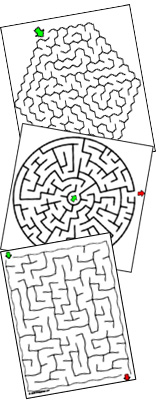 Thank you so much Krazy Dad!
Be sure to join us over at our Homeschool Den Facebook page! Don't forget to Subscribe to our Homeschool Den Newsletter! ~Liesl