Learning About West Africa – Children's Games and more
It has been quite a while since I talked about our African Unit. I think the last time I wrote, I shared the history pages I made about the Ghana and Mali Empires. We had also learned about some famous Africans such as Sundiata and Mansa Musa.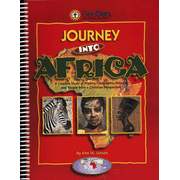 The past couple of weeks, we've been learning more about contemporary Africa.  We've been doing a lot of reading from Journey into Africa: A Creative Study of History, Geography, Animals, and People from a Christian Perspective. We tend to use mostly secular resources, but this book is wonderful. It has lots of maps, photos and illustrations. Some of the chapters are written as if we are being led by a tour guide.
The past few weeks we've read Chapter 5: Overview of West Africa — which included a bit of history,  a discussion of the Gambia, begging, housing and roads, West African Arts — masks, drumming, kente, the Ashante, West African food, schools and children's activities and we finished Chapter 6: Nigeria which includes photos of the outdoor market, women with goods on their heads, an outdoor prayer area for Muslims in Nigeria, Nigerian artwork and children playing games with groundnut shells. It explains about Nigerian Ethnic Groups and includes recipes to try at home.
We played a couple of African games The first one called Queah originated in Liberia. Four pieces are set on the board for each player. Players take turns moving around the board and trying to capture the other player's piece by jumping diagonally over their opponent's piece (see the directions for Queah here).
We also played Pombo. It is a Ghanaian version of American jacks.  The child has seven stones. He/she tosses one stone in the air while trying to pick up one of the rocks on the ground. He/she must pick up the stone and catch the other before it hits the ground. If he/she is successful, then she tries throwing the stone again and trying to pick up two stones.
You'll find more Traditional African Games here.
I'm about out of time so I'll have to come back tomorrow to tell you about care package we got!!!
———————————————————————–
You might be interested in these related posts:
See you again soon here or over at our Homeschool Den Facebook Page. Don't forget to Subscribe to our Homeschool Den Newsletter! ~Liesl